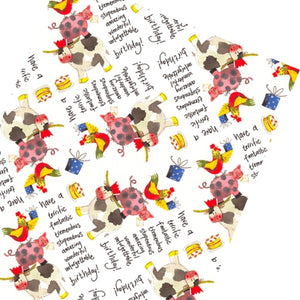 Have a terrific, fantastic, tremendous birthday - Alex Clark gift wrap with tags
This Alex Clark wrapping paper features a repeating design of a cow, a pig and a chicken standing on each others backs. Text on the wrap reads "Have a terrific, fantastic, tremendous, stupendous, amazing, wonderful, unforgettable birthday!"
This packet of wrapping paper contains 2 sheets of folded gift wrap, each measuring 50cm x 70cm, as well as two matching gift tags and co-ordinating twine.  
Designed in her studio in rural County Durham, Alex Clark's beautiful greetings cards, homewares and stationery feature her paintings of the British countryside and the various cute and quirky animals that inhabit it. All creatures great and small, from tiny dormice to humans and highland cows are brought to life in vivid colours.
---
We Also Recommend