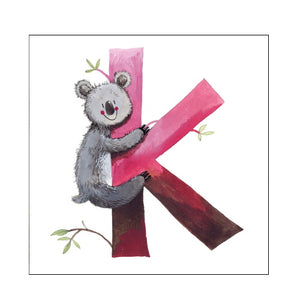 K is for Koala - Alex Clark Alphabet Tile
K is for Koala! This adorable Alphabet Tile designed by Alex Clark features a smiling, rosy cheeked koala bear clinging to a pink "K".
Each Alex Clark alphabet tile is made from laminated cardboard, and punched with two holes at the top so tiles can be strung together on a piece of ribbon to create a name, phrase or even complete alphabet. Each tile is sold separately.
This alphabet tile measures 14cm x 14cm
---
We Also Recommend