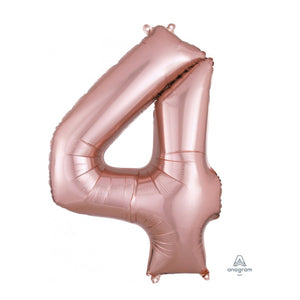 4 - Large Rose Gold Helium-Filled Balloon
**AT THE MOMENT THIS ITEM IS AVAILABLE ONLY FOR LOCAL CLICK AND COLLECT ORDERS**
This large, helium inflated rose gold number 4 measures approximately 91cm x  60cm. Due to the size of these balloons and the amount of helium they use, we recommend using one of our heavier table weights.  Please note, our rose-gold balloons are currently from two different suppliers due to shortages, so colours may vary slightly.
As these are inflated helium balloons we can only currently sell this item for local collection in the Bedale area. Please list in the order notes when you would like to collect the balloon as they will be inflated the day of collection. If you would like to purchase a balloon UNINFLATED please contact us.  
Balloon orders cannot be refunded if less than 24 hours notice is given of the cancellation.
These balloons are not suitable for children under the age of 3 due to hazards. Please keep them away from electrical pylons as they may conduct electricity. 
---
We Also Recommend