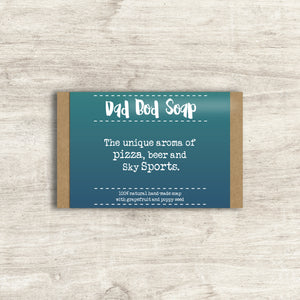 Dad-Bod Soap by Dandelion Stationery
The label on this bar of soap reads "Dad Bod Soap...the unique aroma of pizza, beer and Sky Sports."
Fear not, despite the label, this single bar of wrapped soap smells lovely - scented with grapefruit and poppy seed it is a perfect gift for father's day, birthday or to send dad a hint!
This soap was handmade in the UK with essential oils and other natural ingredients. A high quality, moisturising soap with a rich lather. No artificial colours or preservatives have been used.
This solid soap bar measures 9cm x 6cm x 2cm.
---
We Also Recommend