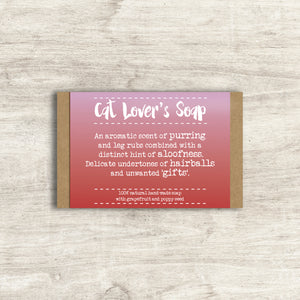 Cat Lover's Soap by Dandelion Stationery
The label on this bar of soap reads "Cat Lover's Soap...an aromatic scent of purring and leg rubs combined with a distinct hint of aloofness. Delicate undertones of hairballs and unwanted gifts."
Fear not, despite the label, this single bar of wrapped soap smells lovely - scented with grapefruit and poppy seed it is a perfect gift for cat owners.
This soap was handmade in the UK with essential oils and other natural ingredients. A high quality, moisturising soap with a rich lather. No artificial colours or preservatives have been used.
This solid soap bar measures 9cm x 6cm x 2cm.
---
We Also Recommend